Learning Spanish
In my humble opinion, well I have lived here since 2003, so it's quite a qualified opinion actually!
YOU SHOULD LEARN SPANISH y punto.
There are a few foreigners that have lived in these parts for a good few years and still can only speak a little of the lingo but I am sure if you are like 80% of our clients, you want to integrate with your new neighbours.
One thing no one seems to stress is, that learning the language of the Country you are in could actually safe your life or that of a loved one! Yes, if you have an emergency situation or a matter of life or death occurs, don't expect the emergency services or operator on the other end of the line to speak English.
If you want to make your new life in Spain not only a successful one but also an enjoyable experience, LEARN SPANISH.
Is it hard? Well, yes it is and the older you are the harder it seems to get but it is so worth it.
I can't begin to stress enough how much easier your life in Spain will be if you can understand and converse in Spanish.
These days it is very easy to listen and watch Spanish TV, Radio, movies and videos via the net and it's nearly all free.
Just get used to listening to the sounds of the language. If you have children who are also learning buy them the most popular books translated into Spanish. Depending on their ages of course but well known books like Alice in Wonderland, Snow White, Aladdin or Harry Potter etc You as the parent can read with them and be able to make sense of most of the words as you know how the story goes!
Every little helps, lots of Spanish pop songs are repetitive, just listen along.
If you really don't have much time and you have already decided to take the plunge and have a moving date, start or buy a Spanish course NOW!
A very good course that teaches you in a very different style is one I wished I'd found before I came to Spain!


It's called Synergy Spanish by a guy called Marcus Santamaria. He has helped thousands of people in more than 43 countries overcome their bar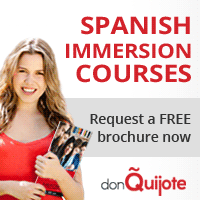 riers to learning and become great at speaking Spanish.
Even if you have felt too old for Spanish or not gifted at languages, Synergy Spanish is made simple in to brain friendly learning method so it will work for you.
With this simple approach anyone can speak Spanish. Try it for yourself, just click here to take a look. Synergy Spanish
If you want to learn Spanish when you get here, then
<iframe name="dq" src="http://www.donquijote.org/ext/cont/pdd_en.asp?code=wfnfawrn&bgcolor=FCFCEA&textcolor=000000&altcolor=FF0000" width="430" height="450" frameborder="0" scrolling="auto" marginwidth="0" marginheight="0" style="width:430; height:450;"> <table width="430"><tr><td align="center">Sorry, your browser does not support frames.<br> Please use the link to don Quijote to see the word of today.</td></tr></table></iframe>